Friends, family, and community members gathered in Sherrill Tuesday
night to remember the 6-year-old girl who was murdered that morning.
Dozens walked through the streets with candles, and gathered to sign a giant teddy bear in honor of Lauren Belius.
Police are still investigating how the little girl was stabbed to death in her home.
According
to their investigation, the child's mother – 36-year-old Alison Belius –
woke up to screams early Tuesday morning and went to a room in which
two of her three children lived in their home at 408 Primo Ave. When she
came upon the room it was barricaded with a dresser. She broke into the
room and discovered her live-in boyfriend, 30-year-old David
Trebilcock, stabbing her 6-year-old daughter Lauren Belius, according to
police.
Police were alerted to the incident when another child ran to a neighbor's house. Police responded just after 8:30 a.m.
The child was taken to Oneida Hospital where she was pronounced dead.
Trebilcock
was transported to St. Elizabeth Hospital in Utica with stab wounds.
Police did not know whether or not the wounds were self-inflicted or if
they occurred when Alison Belius tried to stop Trebilcock.
Trebilcock will be charged with second degree murder
upon his release, police say.
Grief counselors will be available tomorrow from 10 a.m. to 3 p.m. for the public at EA McAllister Elementary in Sherrill.
This school is part of the Vernon-Verona-Sherrill district.
*****
Man who killed 6-year-old Lauren Belius tells his lawyer: 'Jesus made him do it'
Published: Friday, July 29, 2011
The man accused of fatally stabbing 6-year-old Lauren Belius may have been suffering from paranoid schizophrenia, public defenders said Friday.
David L. Trebilcock, 30, will undergo an examination by the Oneida County Mental Health Department, Sherrill Judge Neal Rose ruled Friday morning.
Dawn Catera Lupi, first assistant district attorney of the Oneida County, said the examination will determine if Trebilcock is competent to stand trial and understands the legal system. He pleaded not guilty to second-degree murder charges earlier this week.
But public defenders appointed to represent Trebilcock said they are in the process of piecing together a history of mental health issues. Public defender Frank Nebush said early conversations have involved Trebilcock's father and uncle in Florida.
"It is indicating he has not been mentally right for some time, on and off," Nebush said.
Trebilcock never displayed violent behavior until July 19, when Allison Belius awoke to the sound of her daughter screaming for help. The 36-year-old mother tried to enter the bedroom of her twin 6-year-old daughters, but she found the door barricaded with a dresser, police said. As she forced her way inside about 8:30 a.m., police said, Belius saw Trebilcock, her live-in boyfriend, stabbing Lauren with a five-inch steak knife.
But Trebilcock's explanation for the attack was not rational, Nebush said.
"He said Jesus made him do it," he said.
Nebush said interviews with Trebilcock have also indicated mental health issues.
"He seems to speak coherently and then starts talking about things that are not rational," Nebush said.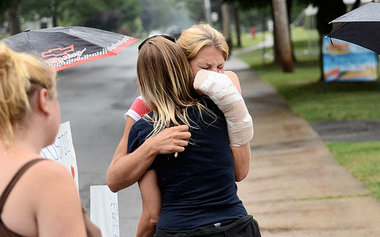 View full sizePeter Chen / The Post-StandardHope Christman (back to camera), of Sherrill, tries to comfort Allison Belius after the court appearance of David L. Trebilcock at Sherrill City Court. Trebilcock is accused of fatally stabbing Belius' 6-year-old daughter, Lauren, July 19.
Nebush said the average onset of schizophrenia is age 19, but can evolve without proper treatment. Nebush said he didn't know if Trebilcock had ever been diagnosed or prescribed any medications.
"Our investigation is just starting," Nebush said.
Trebilcock was led into the courtroom by a pair of Oneida County Sheriff's deputies, bandages on his handcuffed wrists.
Allison Belius sat in the third row, flanked by neighbors Bob Adams and Carolyn Kramer, who witnessed the aftermath of the tragedy on Primo Avenue.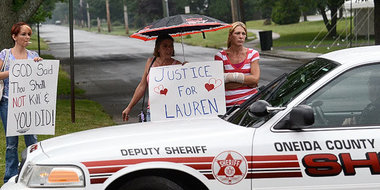 View full sizePeter Chen / The Post-StandardFrom left, Crystal DaPrano, of Verona, Cheryl Cook, of Oneida, Allison Belius, of Sherrill, and a small group of women confront David L. Trebilcock as he is being taken away by Oneida County sheriff deputies Friday.
Although the appearance lasted less than five minutes, folding chairs were brought in to accommodate the standing room only crowd of neighbors, friends and relatives. Family supporters gathered outside the city police department awaiting Trebilcock's arrival, holding signs that read "Protect our Children" and "God Said Thou Shall Not Kill - and You Did." The group chanted, "Justice for Lauren!" as a police car carrying Trebilcock drove into the parking lot.
"He looked right at us," said Jennifer Olmsted of Oneida, who helped organize a candlelight vigil on the night of Laurens death.
Allison Belius joined the group after the court appearance, standing silently. Her own wrist was wrapped in bandages after surgery to repair injuries she suffered trying to stop Trebilcock.
The tragedy has rocked a community so quaint that its courtroom features a replica of the Norman Rockwell painting, "Freedom from Fear." The image depicting a mother and father tucking two small children into bed appeared in The Saturday Evening Post in 1943.
Sherrill residents Jennifer and Brent Butler sat in the second row of the courtroom with their children, 13-year-old Gavin and 10-year-old Sydney. The family took Tae Kwon do lessons with Allison Belius, her children and Trebilcock.
On Friday, Jennifer, Gavin and Sydney Butler held large photographs of Lauren in their laps.
"He stole Lauren from the world," said Jennifer Butler. "Her voice will carry on through us."
http://www.syracuse.com/news/index.ssf/2011/07/man_who_attacked_6-year-old_la.html
*****
Trebilcock says Jesus told him to kill 6-year-old Lauren Belius (updated with video)
Published: Friday, July 29, 2011
SHERRILL — An accused killer's attorney says his client believes Jesus made him kill his girlfriend's 6-year-old daughter.
Sherrill City Judge Neal Rose ordered an examination of David Trebilcock's mental competency Friday during the 30-year-old defendant's second appearance in Sherrill City Court.
Trebilcock, charged with the stabbing death of 6-year-old Lauren Belius, returned to court for a continuation of his arraignment; he had no legal counsel in his previous appearance Monday. He is charged with second-degree murder in the July 19 stabbing death of Lauren in her Primo Avenue home.
The hospital gown he wore to his arraignment Monday was replaced with Oneida County Correctional Facility's bright orange jumpsuit. Ushered into court by two Oneida County Sheriff's deputies, Trebilcock's wrists were handcuffed and still bandaged from self-inflicted wounds, his torso wrapped in a bulletproof vest.
Prior to be arraigned Monday, Trebilcock was being treated at St. Elizabeth's Hospital for a stab wound to his chest and cuts on his wrists — injuries he caused himself with the same Buckingham steak knife with a 5-inch blade allegedly used to stab Lauren.
There to witness his court appearance were dozens of people, requiring extra chairs to be set up at the back of the room. Allison Belius, Lauren's mother and Trebilcock's girlfriend, were seated three rows behind him.
Flanked by Oneida County Public Defender Frank Nebush Jr. and First Assistant Public Defender Patrick Marthage, Trebilcock stood silently as a plea of not guilty was entered. A mental health evaluation was requested, under section 730 of the Criminal Procedure Law, which will determine if a mental disease or defect would prevent Trebilcock from participating in his own defense.
Oneida County Assistant District Attorney Dawn Lupi offered no opinion on the request, which Judge Neal Rose called "a reasonable request."
Rose directed Trebilcock be returned to the Oneida County Correctional Facility and held without bail until his next court appearance, scheduled
Aug. 24
.
Outside the courthouse, Lupi explained that the hearing will determine if Trebilcock is competent to stand trail, understands the charge he faces and comprehends how the justice system works. She declined to comment further.
Nebush, who was assigned to defend Trebilcock just hours before he appeared in court for the second time, said he has only had brief conversations with his client. However, he has spoken at some length with Trebilcock's family — his father and uncle — in Florida.
He said it appears Trebilcock has "some serious mental health issues." He elaborated by saying their investigation has just started, but so far indicates that he may have paranoid schizophrenia.
Nebush was unsure if his client has ever sought help or been on medication. His mental health issues seem to have surfaced "on and off" in the past, Nebush gathered from talking with Trebilcock's family, and up until July 19, he has been "relatively harmless."
In his brief encounters with Trebilcock, Nebush said his client speaks coherently and then deteriorates and becomes irrational. His explanation for killing Lauren Belius "was not rational," he said. Trebilcock told him, "Jesus made him do this," Nebush said.
Nebush said, so far as he's aware, Trebilcock does not have a criminal background.
Also outside the courthouse, lined along the back entrance of the police station, a handful of people greeted Trebilcock with angry chants of "justice for Lauren" as he was ushered in and out of the building. Allison Belius joined the group, watching as Trebilcock was driven away in an Oneida County Sheriff's cruiser.
*****
David Trebilcock hearing postponed to Aug. 31
Published: Tuesday, August 23, 2011

SHERRILL — A court hearing scheduled for David Trebilcock in Sherrill City Court Wednesday has been postponed a week.

A examination of his mental competency was ordered during a court appearance July 29. The results were expected to be reported back to the court Wednesday, but the hearing has been rescheduled for Aug. 31 at 9:30 a.m. at Sherrill City Court before Judge Neal Rose.

Trebilcock, 30, was arraigned July 25 on a second-degree murder charger six days after the stabbing death of 6-year-old Lauren Belius, one of his girlfriend's three children, in their Primo Avenue home.

Represented by Oneida County Public Defender Frank Nebush Jr., Trebilcock was insistent that Jesus told him to murder the child. Nebush said Trebilcock may suffer from paranoid schizophrenia and was unsure if he was being treated or taking medication.

After barricading Lauren Belius and her twin sister in their bedroom and then allegedly stabbing her, Trebilcock stabbed himself in the chest and cut his wrists. He was hospitalized at St. Elizabeth's and also treated for stab wounds on his back inflicted by the child's mother when she attempted to stop him.

The mental health evaluation will determine if a metal disease or defect will prevent Trebilcock from participating in his own defense.
*****
Trebilcock set to return to court September 9 in child's stabbing death
Story Created: Sep 1, 2011 EDT
SHERRILL, N.Y. (WKTV) - The Sherrill man who was indicted Wednesday in the stabbing death of his girlfriend's six year old daughter now has a date scheduled for his return to court.
David Trebilcock is now scheduled to stand before Judge Michael Dwyer in Oneida County Court on September 9, 2011.
He was indicted Wednesday on murder charges following the stabbing death of six year old Lauren Belius in July. Trebilcock was indicted on second degree murder charges, second degree assault charges and criminal possession of a weapon charges in Oneida County Court.
Trebilcock had been living with his girlfriend, Lauren's mother, Alison and two other children in their Primo Avenue home in the City of Sherrill.
Police say Alison woke up to her daughter's screams the morning of July 18th and walked into the bedroom that Lauren shared with her twin sister and found Trebilcock stabbing Lauren.
Earlier this week, Trebilcock was declared mentally competent to stand trial.
http://www.wktv.com/news/crime-reports/128880193.html
*****
Benefit raises money for family of murdered Sherrill girl
by Brian Mueller
Posted: 09.10.2011 at 7:29 PM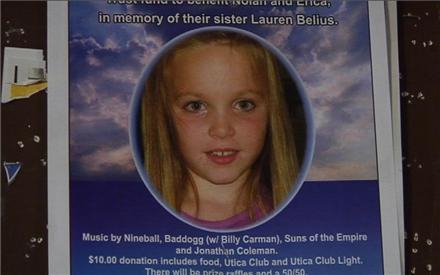 Family members, friends and strangers all gathered at the Electric company in Utica Saturday to raise money for the family of Lauren Belius, the six year old girl who police say was murdered in her home in July. All of the money raised from the event will go into a trust fund set up for Lauren's two siblings, Erica and Nolan.
One of the benefits organizers, Kristy Clifford, says there are a lot of mixed emotions for the family today.
"It's kind of a bittersweet day for them," Clifford says. "They're happy that all these people are here and we're all together and smiling and trying to be happy. It's unfortunate the reason that we're here, but it's all about supporting them and that's why everybody's here today."
Belius's accused killer, David Trebilcock, was arraigned in Oneida County Court Friday, and is due in court again in October.
If you would like to send a donation to the Belius family, you can mail them to:
John Belius Jr.
9211 State Route 26
Lee Center, NY 13363
http://www.cnycentral.com/news/story.aspx?id=661785
*****
Trebilcock offered plea deal, judge forbids attorneys from discussing case
By JOLEEN FERRIS
Story Created: Sep 9, 2011 EDT
Story Updated: Sep 9, 2011 at 9:22 PM EDT
UTICA, N.Y. (WKTV) - The judge has issued what amounts to a gag order in the case of the 30-year-old Sherrill man accused of murdering his girlfriend's six-year-old daughter.
David Trebilcock entered a not guilty plea at his arraignment Friday morning in Oneida County Court. The District Attorney's Office extended a plea offer, but details were not made public. After the proceeding, when asked for comment, both attorneys said that the judge forbid them to publicly comment on the case in the media.
Trebilcock is accused of stabbing six-year-old Lauren Belius to death at the Sherrill home he shared with her and her mother. It happened in July. The Oneida County Public Defender in the past has expressed concerns about Trebilcock's mental state, saying that family members told him the defendant suffered from schizophrenia. A judge did order a psychiatric exam.
Trebilcock's attorney has to make motions, or requests, regarding the case by October 13. The judge set a November date for a suppression hearing on 12 statements Trebilcock allegedly made to police. He did not set a date for Trebilcock to report on the plea offer.
Lauren Belius' mother was in court Friday and declined comment.
http://www.wktv.com/news/local/Trebilcock-offered-plea-deal-judge-forbids-attornies-from-discussing-case-129536213.html
Hearings delay David Trebilcock murder case
Published: Wednesday, November 02, 2011
UTICA — Progress in David Trebilcock's criminal case has been hung up on the admissibility of statements the alleged killer made to emergency responders at his girlfriend's Sherrill home after stabbing her 6-year-old daughter.
Trebilcock made an appearance in Oneida County Court before Judge Michael Dwyer Wednesday morning for what was supposed to be a hearing to determine whether statements he made after stabbing 6-year-old Lauren Belius, on his way to the hospital to be treated for self-inflicted knife wounds and while at the hospital could be used in court.
Oneida County First Assistant Public Defender Pat Marthage had originally asked that the statements be suppressed, a motion which Oneida County First Assistant District Attorney Dawn Catera Lupi objected to. The court later denied Marthage's request at a hearing on Oct. 20, so a Huntley hearing was called for to determine the admissibility of the statements in court.
After a conference between Marthage, Lupi and the judge and last week, during which the 12 statements were reviewed, Marthage retracted his request to suppress statements made at the scene to allow them to be used as evidence in the case.
Sherrill Police Sgt. Chris Bailey, Sherrill Fire Department volunteer firefighter Bill Vineall, New York State Police Captain Francis Coots and Vineall Ambulance EMT Matthew Wiediger were at court Wednesday ready to testify to the utterances and remarks they heard Trebilcock make at the scene. They were not required to appear in court in light of Marthage's decision.
The admissibility of the remaining statements, made while Trebilcock was being transported to the hospital and while being treated at the hospital will be determined at hearings scheduled in December.
Before Marthage makes a determination on whether or not he will fight to suppress those comments, a psychiatrist, serving as an expert witness to the prosecution, will need to review and weigh in on nearly five hours of recorded conversations and interviews police had with Trebilcock on the way to and at the hospital. The prosecution's psychiatrist will also need to review the recordings.
The judge expressed concern over how long the case will be delayed to accommodate the psychiatrists' work. While Lupi said the prosecution's psychiatrist would not be able to complete his report before the end of the year, a hearing is scheduled for Dec. 8 to allow Marthage to place his decision about the statements on the record. A second date has been set for Dec. 15 if a hearing on the statements' admissibility is needed.
Also in court was the victim's mother, Allison Belius, who watched intensely as Trebilcock was led in and out of the court room. With his head bowed, Trebilcock silently sat at the defense table through the proceeding. The judge asked him during his appearance if he was paying attention, to which he replied "yes," but he was otherwise silent.
Allison Belius cried quietly, even before he was brought into court in handcuffs. The two had been dating at the time of the incidence. Trebilcock was living at her 408 Primo Ave. home in Sherrill with her three children – 6-year-old twins Lauren and Erica and 9-year-old Nolan. On the morning of July 19, Trebilcock allegedly barracaded the twins in their bedroom and fatally stabbed Lauren Belius before cutting his own wrists and stabbing himself in the chest with the same steak knife he used to kill the girl. In an attempt to stop the attack, the child's mother stabbed him in the back.
Trebilcock has been in Oneida County Jail since being arraigned in Sherrill City Court July 25. He was placed on a special watch unit after he asked to be put in solitary confinement and because of his injuries and potential risk of suicide. His defense attorneys have said that he may be a paranoid schizophrenic and has reportedly said that Jesus made him kill the child.
He was indicted in August of second-degree murder, second-degree assault and fourth-degree criminal possession of a weapon. The work of two independent psychologists has determined he is mentally competent to stand trial.
http://oneidadispatch.com/articles/2011/11/02/news/doc4eb1cce24c0aa330944221.txt?viewmode=fullstory
Murderer: