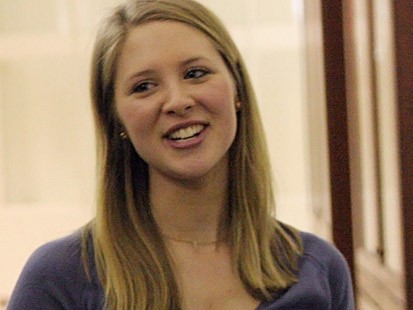 Tar Heel Victim ID'd as Student Body Head
UNC Senior Eve Carson, 22, Shot Dead Wednesday Morning off Campus; Car Missing
The female student found fatally shot Wednesday morning in a quiet neighborhood near the University of North Carolina's Chapel Hill campus was identified today as the school's student body president.
Police investigators and the office of the medical examiner identified the victim as 22-year-old
Eve Carson
, a UNC senior, according to a release from the Chapel Hill Police Department.
The victim's vehicle, a blue 2005 Toyota Highlander with Georgia plates, remains missing, police said.
Authorities have not named a suspect in the shooting, which was reported around 5 a.m. Wednesday.
"I am so sorry to tell you that Chapel Hill police have identified the victim of this week's shooting as Eve Carson," chancellor James Moeser wrote in a message to students and staff, "our student body president, trustee, wonderful person and great friend."
Moeser announced that the student body would gather at a central location on campus this afternoon to remember Carson. Counseling would be made available to students.
*****
Eve Carson
This beautiful white girl voluneteered in Ecuador, Egypt and Ghana. She was adamant about helping poor people in other countries. After her murder this monkey was seen in her vehicle using her ATM card! Should I be sad that she was killed, or should I be happy? She was helping Muslims and Negros in Africa!
CHAPEL HILL, N.C. - Detectives investigating the slaying of University of North Carolina student body president
Eve Carson
searched for a suspect who used her ATM card, police said Saturday.
Chapel Hill Police Chief Brian Curran released two surveillance photos of the suspect taken at an ATM machine in Chapel Hill, but declined to say when the photos were taken. Police also released a photo of a baseball cap the suspect appears to be wearing in both of the surveillance pictures.
"This is our biggest break so far in this case," Curran said.
Curran said police have circulated the picture for the past 24 hours with police departments in North Carolina, hoping their officers might be able to identify the suspect. The ATM photos show a young man in a baseball cap and hooded sweat shirt driving an sport utility vehicle that Curran said may be Carson's Toyota Highlander.
Carson's truck was found Thursday, a few hours after police identified her as the victim of a Wednesday morning shooting about a mile from the North Carolina campus. She had been shot several times, including once in the right temple, and her body was found lying in the street.
Curran again said Carson appears to be the victim of a random crime.
Carson was last seen alive at 1:30 a.m. Wednesday, when she stayed home to do schoolwork while her roommates went out, authorities said. Officers found the body of a young woman after neighbors reported hearing shots around 5 a.m.
"My information is she was an extraordinarily busy woman and it wasn't unusual for her to go to the office in the middle of the night," police Chief Brian Curran said. "But we don't know that's what she was doing."
The medical examiner said there was no indication that Carson had been sexually assaulted.
Curran said detectives had no evidence other than her car, which was found Thursday about a mile from where her body was discovered. Officers found the blue 2005 Toyota Highlander after receiving a tip from a witness who spotted it near the main drag though the college town about 45 minutes west of Raleigh.

Body found in upscale area
Police don't know what she was doing in the upscale residential area where her body was found, Curran said. He told The News & Observer of Raleigh that police believe the killer was in Carson's car at some point.
Curran said police had been in contact with authorities in Alabama investigating the killing of a female student at Auburn University, but added that the cases do not appear to be connected.
University of North Carolina Chancellor James Moeser said there was nothing to link Carson's slaying to anyone on campus.
"It's just a huge blow. It's a blow against everything we assume about ourselves, about being a peaceful, safe place where kids come," he said on Friday. "She was a joyful person. She loved this place. She loved being here."
Speaking at one of two memorial services held on Thursday, Moeser said: "We have lost someone whom we cherish and love. We're all in a state of shock."
Students met again after nightfall for a candlelight vigil at The Pit, a popular campus gathering spot.
"If they saw a smile on Eve's face, they were smiling," said Carly Swain of Charlotte. "If she was having fun, they had fun for a second because that's the kind of power she had over people."
Carson was a prestigious Morehead-Cain scholar and a North Carolina Fellow, taking part in a four-year leadership development program for undergraduates. A premed student, she majored in political science and biology, taught science at a Chapel Hill elementary school, studied abroad in Cuba and spent summers volunteering in Ecuador, Egypt and Ghana as part of a school program.
Moeser said he last saw Carson on Tuesday, at the Tar Heels men's basketball game against Florida State.
"This is a tragedy magnified and multiplied by the number and depth of relationships, many relationships that Eve Carson had on this campus," Moeser told the students. "This enormous throng is a testament to the many and deep relationships.
"Eve Carson personified the Carolina spirit."
Carson is the daughter of Bob Carson and Teresa Bethke. A man answering the phone at Bob Carson's business, Carson Advisory Inc. in Athens, said the family had no comment.
Maxine Easom, principal of Clarke Central High School in Athens, where Carson graduated as valedictorian in 2004 and was also elected student body president, said she and staff members learned of her death Thursday morning.
"We're devastated," Easom said. "Eve was just the most wonderful young woman you would ever want to know. She was brilliant. She was absolutely beautiful. Everything she did was aimed at helping other people. It's one of the greatest tragedies I've ever known. Eve was one of the young women who could change the world."